The Ultimate physical activity and motor planning membership
The mission of Pink Oatmeal is to make physical activity and motor planning fun and easy for you as a parent, teacher, or therapist!  The membership options are here for you to make this possible and easy! You will have everything you need for physical activity and motor planning when you subscribe to a Pink Oatmeal membership.
TAKE THE STRESS OUT OF MOTOR PLANNING AND PHYSICAL ACTIVITY
"Pink Oatmeal has so many beautiful and super useful resources, I'm totally in love with all her products! The membership is simply AWESOME as you get access to all of the products PLUS a lot of great extras that are only available for members like very useful videos with ideas, monthly calendars with theme ideas and exclusive products!!!  As a mother and kids yoga teacher I can't thank Pink Oatmeal enough for creating such fantastic and different products that I can use both at my classes as well as at home with my own kids, they all LOVE each and every single set. And the best part is that I don't need to spend a lot of time figuring out themes and activities for my classes because Pink Oatmeal has it already figured out for me! I definitely recommend the membership to any teacher or parent who wants to keep their students and kids entertained in a healthy way " -
"Pink Oatmeal is a one stop shop!  I love the themes, kid friendly pictures and purposeful movement breaks for teachers and therapists to implement.  I am a school based Occupational Therapist and use these materials daily.  My own two children love the card decks!  I love the motor packs which cuts down my session planning time.  This membership is a valuable resource!" - Bethany
"From the interactive brain breaks to movement cards to therapy awards - Pink Oatmeal is the best and my favorite resource to when planning physical therapy sessions! My students absolutely love when we put the interactive brain breaks on the smartboard. The activities and games are engaging, quick to learn and provide fun ways to improve coordination, strength, balance and endurance. During our first quarter conference night, the students decided to teach their families how to play several of the fall themed games and they were even correcting their parents body mechanics in the motor room! Thank you Chanda and Pink Oatmeal for these awesome products!"
"I am a PT new to the school setting and I love all the great ideas Chanda has for fun activities for the kids both gross motor and fine. The weekly themes have been super helpful for planning and the printables are amazing! Really happy I joined the membership and can't wait to try out all the activities with my kiddos this year!"
EXAMPLES OF RESOURCES FROM PINK OATMEAL
As a member, not only are you getting access to Pink Oatmeal's resources in the shop, but you also gain access to resources made only for Pink Oatmeal members!  You will even get every single new resource added! 
Want to have access to more videos like these? Use these videos as an additional resource for your motor planning and physical activity needs!  When your purchase a membership with Pink Oatmeal you will have full access to Pink Oatmeal's video library.  
As a member gain access to products for member's only that aren't even available in the shop.  See some of the examples below.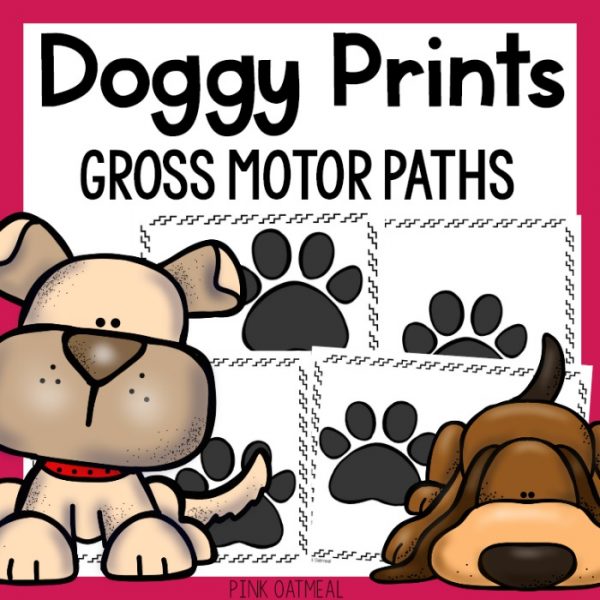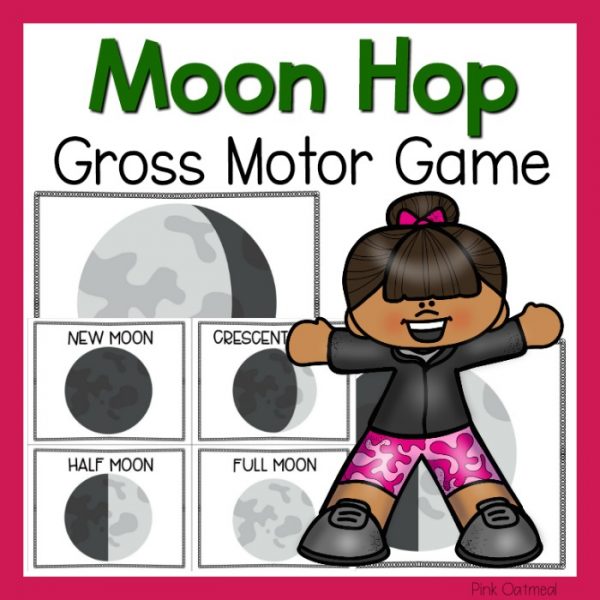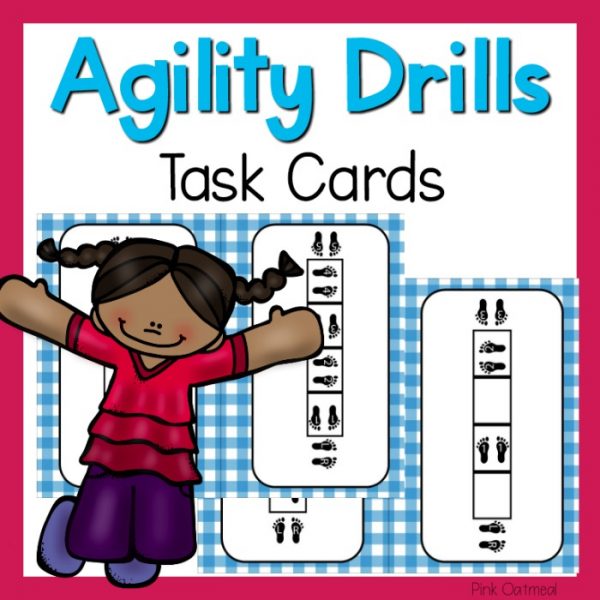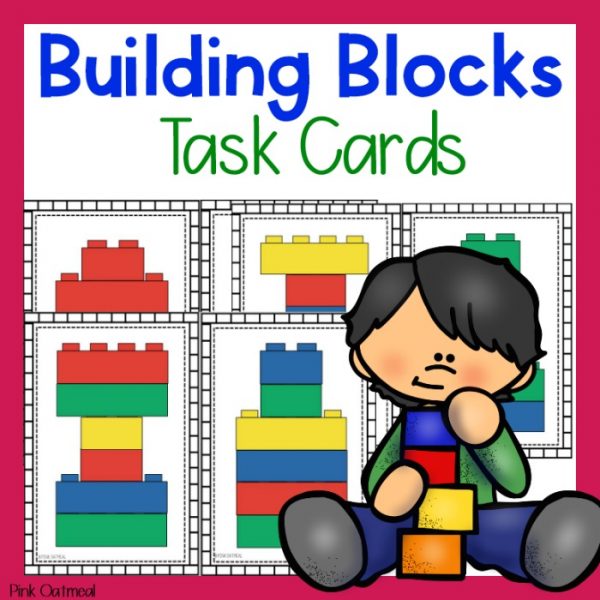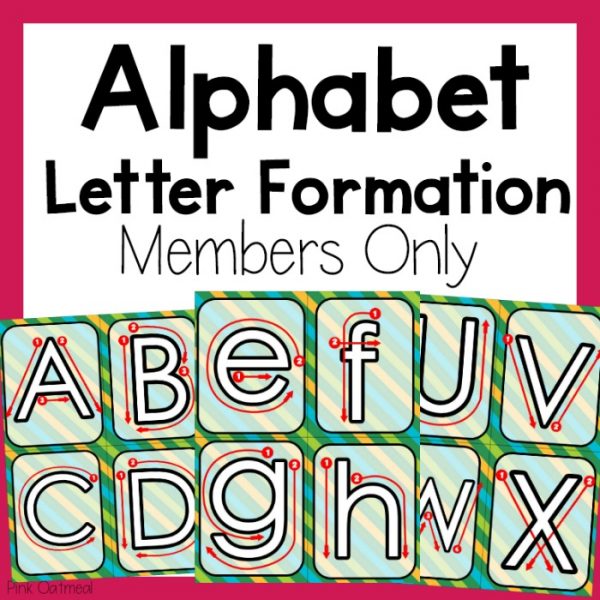 Get downloadable  motor planning calendars for each month to help you with your gross motor, fine motor, and physical activity planning. Links lead to printables , blog posts, or videos!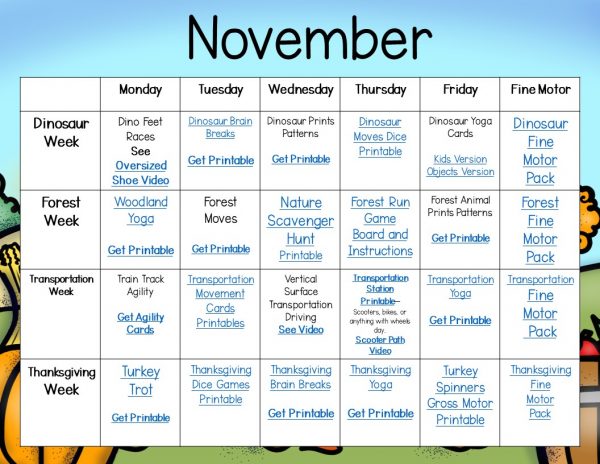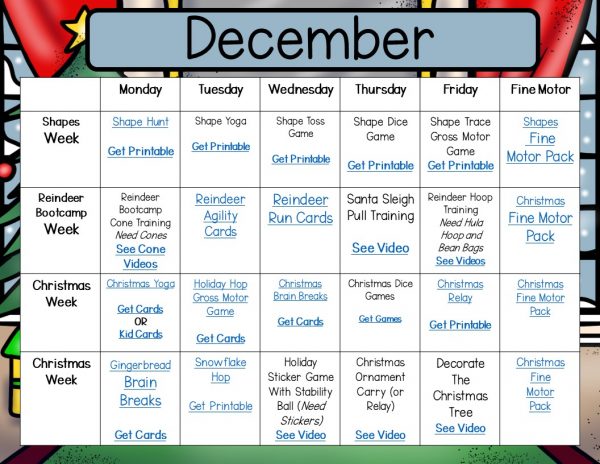 TAKE A TOUR OF THE MEMBERSHIP
What do I get?
You are purchasing a membership to Pink Oatmeal's website.
Lifetime Membership
You get lifetime access to ALL  digital and printable resources created by Pink Oatmeal, themed motor planning ideas released each month, a video library of movement and motor planning ideas, and printables that are for members.
Annual Membership
You get access for one year to ALL  digital and printable resources created by Pink Oatmeal, themed motor planning ideas released each month, a video library of movement and motor planning ideas, and printables that are for members only.
Do I need an account to gain access to my resources?
Yes, when you purchase your subscription you will be prompted to set up an account.  You need this so that you can log in and access all of the resources.
What if I already have an account?
You can use the account you already have set up to gain access to Membership benefits. Simply make sure you are logged in when you check out.
When can I start using Pink Oatmeal's resources?
Immediately! Once you purchase your membership, you will gain immediate access to all members only materials. You will receive a download with your purchase, which will include a link to give you a video walk through of what you will find as part of your membership.
How long can I access the materials?
You can access all your membership benefits at any time of the day.  Annual members will have access for 1 year from their start date.
Can I share my resources with my co-workers?
No, When you purchase a Pink Oatmeal membership you are purchasing a single license, meaning it is for use for one person. Group memberships are available!    See group membership pricing for the Annual Membership or Lifetime Membership options.  
If I buy the membership do I get access to all newly added resources as well?
YES!  You get access to all of Pink Oatmeal's digital and downloadable resources and anything that is added as long as you remain a member!
Does my membership renew each year?
No, lifetime members always have access and don't need to worry about renewals.  After 1 calendar year annual members will lose access unless they renew their membership again.
Do you have group membership options?
YES!  Pink Oatmeal offers group memberships at a discount!  See the Lifetime Group Membership and Annual Group Membership discounted prices.  
How do I cancel?
If you find you want to cancel your membership  Go into your account.  Click on memberships in the dashboard.  Under memberships click manage.  You can cancel your membership there.
If I cancel will I still have access to my downloads?
As all files are downloadable it is good practice to save every file you download to your computer. You will also still have your account available to access any of your downloads you received during your subscription period.
Do you accept purchase orders?
Yes, on orders larger than $50 Pink Oatmeal accepts purchase orders.  Contact chanda@pinkoatmeal.com to inquire about purchase orders. 
I see you have t-shirts for sale is this included?
No, t-shirts are not included as part of this package as they are sold on Amazon