Dental Health Gross Motor Games are an excellent way to add movement to a dental theme or for dental health month (February)!  Get your hands on 5 different dental health gross motor game printables plus an additional digital tooth friends gross motor game.
Feel confident that you have a fun dental health themed way to move. 
Your kids will LOVE these games and so will you!
How to Use
Set up the different gross motor games for your dental health theme. Set up as many or as little as you want.
Anyone can play the games They are great for use in the regular classroom, special education room, occupational/physical therapy and physical education.
The games are fun for use during physical education or in group/individual physical and occupational therapy. This resource is a great way to add simple movement into the day which we know is essential for learning and concentration! These are PERFECT for dental health month!
5 different printable gross motor games
Instructions and videos to go along with the games
Associated Printables For Each Station
Tooth Friends Digital Game
Dental Health Gross Motor Games
Tooth Fairy Balance
Smile Agility Drills
Dental Health Taps Game
Clean The Tooth Game
Dental Health Scramble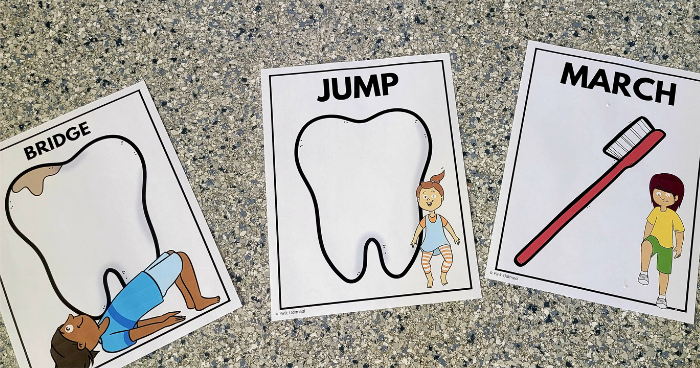 Tooth Friends Gross Motor Game
This game can be played digitally on a tablet, computer or interactive whiteboard. You are also welcome to print it and use it as printables.
Files
With your purchase you will receive a Downloadable PDF File.
The Tooth Friends Digital Game will include a Downloadable PDF file, Google Slides Link, and PowerPoint file.