Description
Football season runs from August to January but football is fun all year long! Combining football with brain breaks makes for fun all year in the classroom!
Description
48 Brain Break Cards with a football theme.  Read all about them on the blog! 
Get all your Fall/Autumn themed brain breaks in a bundle and save – BUY IT IN A BUNDLE AND SAVE!
Save on Football Brain Breaks when bought in the Sports Bundle!
How to Use
Cut out and laminate football brain break cards and put them on a ring or use on a bulletin board.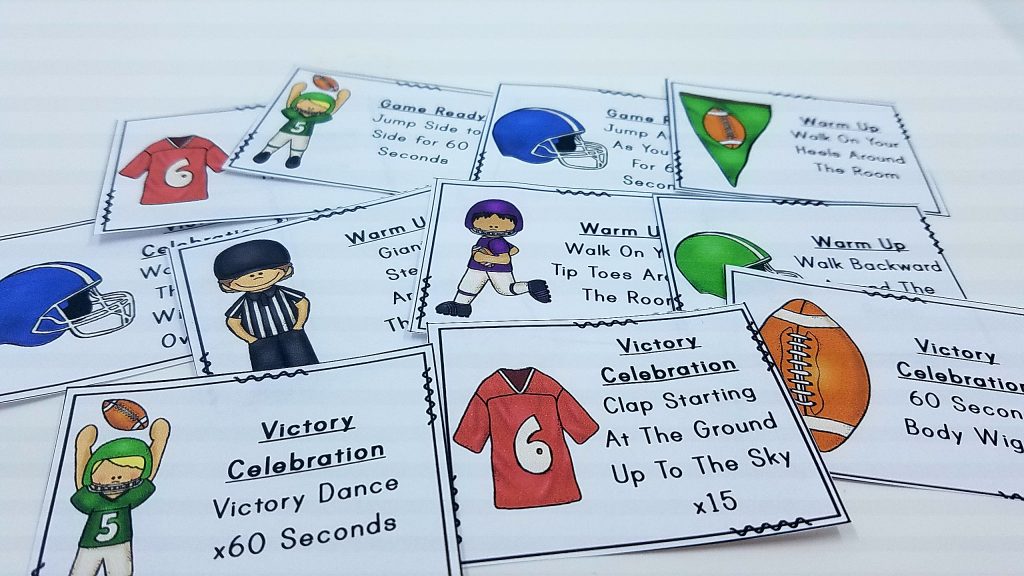 Who Can Use Them
Anyone can use football brain break the cards! They are great for use in the regular classroom, special education room, occupational/physical therapy and physical education. Brain breaks are a must all year long!
Where to Use Them
These are perfect for use during a morning meeting, brain break, physical education or during transitions. Use in therapies as warm-ups or prior to testing! Space theme adds a little fun to the brain breaks. Use with a football based unit, during football season or the Superbowl!
Get the kiddos thinking they are playing football when performing these brain breaks.
Contents
48 Cards (4 per page)
Football Card Cover
*See Pictures*
17 Total Pages Including Cover, Terms & Conditions, and Credits
Downloadable PDF