How great would it feel to have an activity where you can work on base 10 blocks and fine motor skills with a unicorn theme!   Feel confident you will have an awesome way to work on all of these skills all year long!
The Unicorn Play Dough Escape Room can be played digitally on your tablet, computer, or interactive whiteboard.  All of these games can be played in PowerPoint,  Google Slides or played digitally in a PDF file!
YOUR KIDS WILL BEG TO PLAY THIS GAME OVER AND OVER! 
YOUR KIDS WILL NEED SOME FORM OF PLAY DOUGH TO PLAY THIS GAME
If you do not want to play digitally the hard copy file will allow you to put the game together using envelopes and stations.   The hard copy will also allow for recording sheets for the digital games if desired.
Unicorn Play Dough Escape Room
See video preview below. Video sped up so that you can get a good overview of the game.
There are 10 different "rooms" as part of the game.  There is a base ten blocks problem to solve to get the code.  When the correct code is unlocked the fine motor (dough) activity appears.  Once the  activity has been performed the kids can move to the next room and clue.
This game can also be printed and used how you would like! An example below is of the dough mats being used over the peanut ball.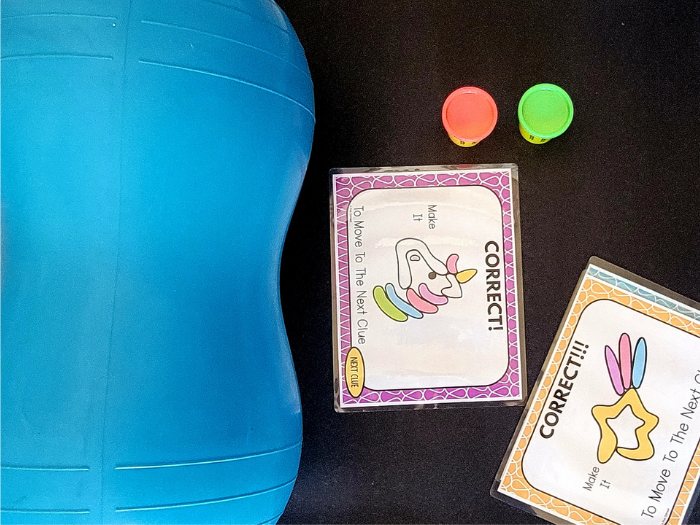 Files
When you purchase the escape rooms you will receive one zipped file containing a PowerPoint file, Google Slides copy, PDF file, and the PDF file with instructions and awards.  You can play these games by playing in PowerPoint, Google Slides or using the PDF file to play!  Even the PDF file can be played interactively!!!
Use The Fine Motor Escape Games
Problem Solving
Brain Breaks
Therapy Sessions – PT, OT, or Speech
During Transitions
Bundle Savings
You can get this game as part of a bundle and save! You will have this resource along with other amazing resources that both you and your kids will LOVE! Check out the bundle options for this resource below!
UNICORN AND RAINBOW GAMES BUNDLE
OR