All the information and set up materials for PE stations. These would also be great for fitness activities or to use a few of stations as part of your workshop or centers as a brain break. 16 different station set ups and descriptions included.
How to Use
Print, Cut out, laminate – use materials to make a movement station for your classroom. Use different suggested moves each week. Rotate stations daily or weekly. Be creative in how you utilize the stations.
Who Can Use Them
Perfect for everyone! These stations are particularly great for K-4th as they have fun activities such as scooter boards, scarves, and hopscotch included. They work for physical education, classroom, and therapies.
Where to Use Them
Use these in physical education. They are also great for physical therapy or occupational therapy.Use them as part of math centers, literacy centers, workshop. Kids need to move and we need to make this a constant part of the school day!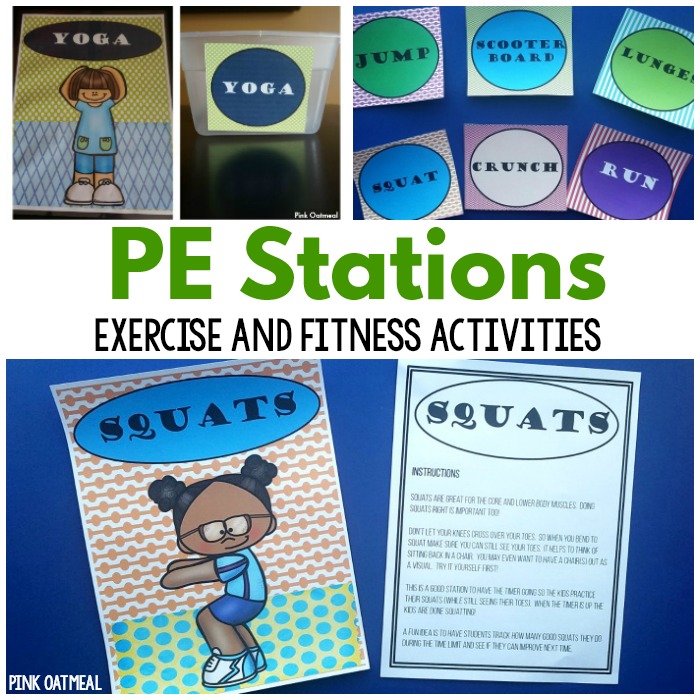 Contents
16 Movement Station Full Sheet Pictures
Instructor Information: Descriptions Instructions and Suggestions for how to use each station included.
16 Short Labels (6 per page)
12 Long Labels (6 per page)
See Additional Pictures for contents
Movement Stations Include: 
★Bean Bags
★Scooter Board
★Hopscotch
★Ball Play
★ Jump Ropes
★Scarves
★Hula Hoops
★Yoga
★Jumping
★Jumping Jacks
★Crunches
★Squats
★Shuttle Run
★ Lunges
★Planks
★Push-Ups
Downloadable PDF
43 Total Pages