Think of how great it would be to have 38 Sensory/Brain Break/Calm Down Cards (4 per page) and corresponding printable. You determine the duration and repetitions depending on what's best for your setting.
These are great visuals to use for a variety of different options and settings! 
How to Use
These cards and printables are perfect for use for ANY child.
•The sensory printables are simple to put up on an interactive white board for an entire class to see and perform the actions.
•Place printables around the classroom, therapy room or home for a movement break.
•Place printables in the hallway for movement breaks throughout the day.
•The sensory/brain break cards are perfect for any individual child or to use as a game.
•Laminate sensory cards and put them on a ring!
•Place cards in a box and let the kids pick them out.
•Cards are small and easy to carry between places.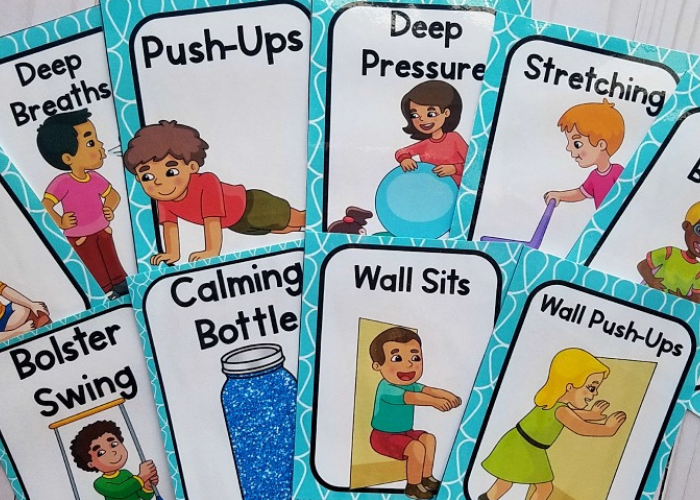 Who Can Use Them
These cards and printables are perfect for the much needed movement breaks or sensory breaks for ALL children. They are simple to utilize in any setting.
Where to Use Them
In a classroom, special education resource room, physical education, PT, OT, or SLP session.
Sensory Breaks Included – Yoga, Chair Push-Ups, Heavy Work, Weighted Blanket, Belly Breaths, Wall Sits, Deep Breaths, Wall Push-Ups, Stretching, Deep Pressure, Balance Board, Push-Ups, Scooter Board (x2), Fabric Swing, Bolster Swing, Net Swing, Platform Swing, Trampoline(x2), Crash Pad, Calm Down Bottle, Headphones, Fidget, Mindfulness, Pillow/Bean Bag Seating, Therapy Ball(x2), and Bouncy Ball, tunnel, foot band, putty, sensory table, squeeze ball, wobble disc, balance beam, stair climbing
Contents
38 cards (4 on a page)
38 Full Sheet Printables (same move)
Total Pages – 50
Bundle Savings
You can get this activity as part of a bundle and save! You will have this resource along with other amazing resources that both you and your kids will LOVE! Check out the bundle options for this resource below!
BRAIN BREAK, YOGA, AND SENSORY CARD BUNDLE
OR