Think of  how great it would feel to have fun space theme movement activities  created and ready to use!
Not only would you have it done for you, but you could feel confident knowing that your kids are having fun with physical activity and movement activities!  You will have fun movement for a space theme that you and your kids love.
You will have screen free activities to promote movement.
You will have fun activities for your brain breaks, morning meetings, home or therapy sessions.
You won't have to be spending time searching and creating your own resources, it's all done for you!
CHECK OUT ALL OF THE SPACE THEMED YOGA OPTIONS FROM PINK OATMEAL
How to Use
Cut out and laminate cards and put yoga cards on a ring. Use full sheet printables for bulletin boards, centers, or on smart board.
Who Can Use Them
Anyone can use the Space Yoga Cards and Printables. They are great for use in the regular classroom, special education room, occupational/physical therapy and physical education.
Where to Use Them
These are perfect for use during a morning meeting, brain break, physical education or during transitions. Use in therapies as warm-ups or prior to testing! Use with a space unit and use them all year long!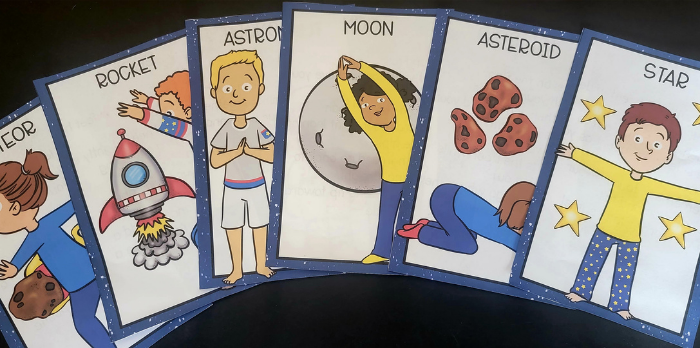 Contents
11 yoga cards (2 per page)
11 description cards formatted for easy front to back printing.
11 full sheet picture of pose only printables (same poses)
1 Yoga Cover Card
27 PAGES INCLUDING COVER, TOU AND CREDITS
Bundle Savings
You can get this activity as part of a bundle and save! You will have this resource along with other amazing resources that both you and your kids will LOVE! Check out the bundle options for this resource below!
KIDS YOGA CARDS AND PRINTABLES MEGA BUNDLE
OR