Think of how great it would be to have a game that combined both locomotor skills and ball skills/target practice. We've got that game for you! The Locomotor Target Toss Fly Games has your working on target practice and locomotor skills combined in one fun game!
Feel confident you have a fun game that works on a variety of skills that you and your kids will LOVE!
Included In The Pack
Fly Shapes Target Toss Locomotor Game
Fly Color Target Toss Locomotor Game
How To Play
Place the targets (either shape flies or color flies) on the wall. Toss a ball or bean bag at the target. When you hit the target,  do the corresponding locomotor movement.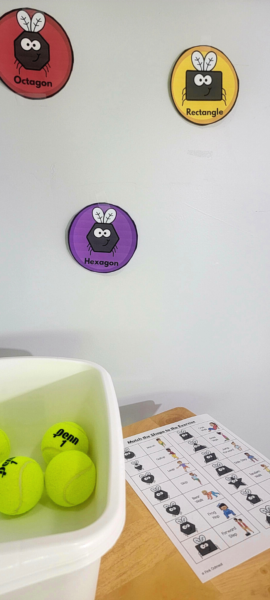 Contents
Shapes Game – 14 shapes targets, shapes locomotor sheet
Color Game – 14 color target, color locomotor sheet
Total Pages: 21
Downloadable PDF File