Think of how great it would be to have fast, fun, and effective movement ideas with a carnival theme!  Not only will your students beg to do these brain break cards over and over, but you will love them too.  Feel confident that you can easily incorporate movement into a carnival theme and year round!
Carnival Brain Break Cards
How to Use
Print, laminate, and cut out brain break cards.  There are four cards per page and 48 total brain break cards.
Who Can Use Them
Anyone can use the brain break cards!  They are great for use in the regular classroom, special education room, occupational/physical therapy and physical education.
Where to Use Them
They are a great movement break during the day, use at circle time, morning meeting, free time or for use during stations. These cards are fun for use during physical education or in group/individual physical and occupational therapy. They are a great way to add simple movement into the day which we know is essential for learning and concentration!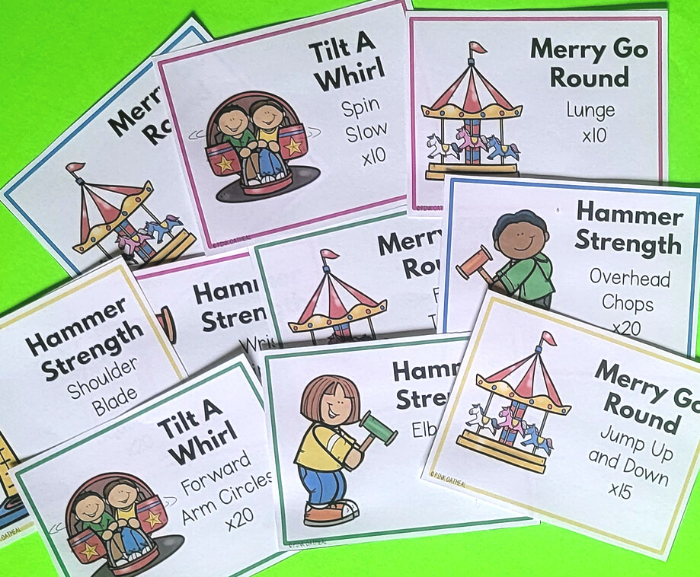 Carnival Brain Break Cards Contents
48 Carnival Themed Brain Break Cards
4 Cards Per Page
Card Cover
18 Total Pages
Downloadable PDF
Bundle Savings
You can get this activity as part of a bundle and save! You will have this resource along with other amazing resources that both you and your kids will LOVE! Check out the bundle options for this resource below!
OR